Ethiopian youth went to the Russian embassy in Addis Ababa to join the war in Ukraine to support Russia,
Embassy of Ukraine in Ethiopia accuse Russian spies who works undercover in Addis Ababa in engaging young & innocent Ethiopians into Satan's invasion of Ukraine.
Embassy of Ukraine in Ethiopia wrote the following statements on their Facebook page
Everyone now clearly understands that russia and all russians lie.
Trying to recruit Ethiopian Youth, russians do not tell anybody that as of April 18, 2022, over 20000 of RU invaders has already met their Death in Ukraine.

Felt defeated in Ukraine, russia insidiously tries to mislead and play its dirty games.
Not even visa applications as well as travel passports brought by these frank Ethiopians do not stop russian military spies who works undercover here in Addis Ababa to engage young and innocent people into Satan's invasion of Ukraine.
Witnesses interviewed by the BBC said they had seen people line up at the entrance of the Russian embassy in Addis Ababa to register as "mercenaries." An eyewitness who spoke to the BBC added he had started seeing long lines at the embassy since yesterday.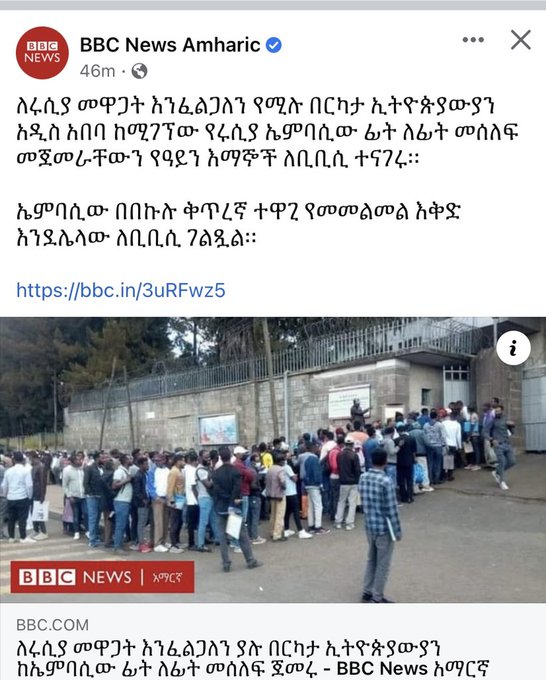 Video of Ethiopian volunteers lined up at the @RusEmbEthiopia seeking to fight alongside Russian soldiers in #Ukraine war pic.twitter.com/ZA6LaNFdgT

— Seifesilassie Gebremeskel (@SeifGebre) April 18, 2022
Russia backed Ethiopia in the war on Tigray to commit the ongoing Tigray genocide and now Ethiopian regime supporters are simply returning the favor by enlisting to support Russia in the aggression of the Ukraine war.
Following Russia's invasion of Ukraine, Western powers imposed severe sanctions on Moscow. Although it was not clear where Ethiopia's position in this war, it was clear to observe in the UN General Assembly on Russia, refraining from voting and opposing Western decisions.
Sources: BBC, Ukraine Embassy Addis Ababa