The Catholic Eparchy Adigrat asks to end the blockade in Tigray.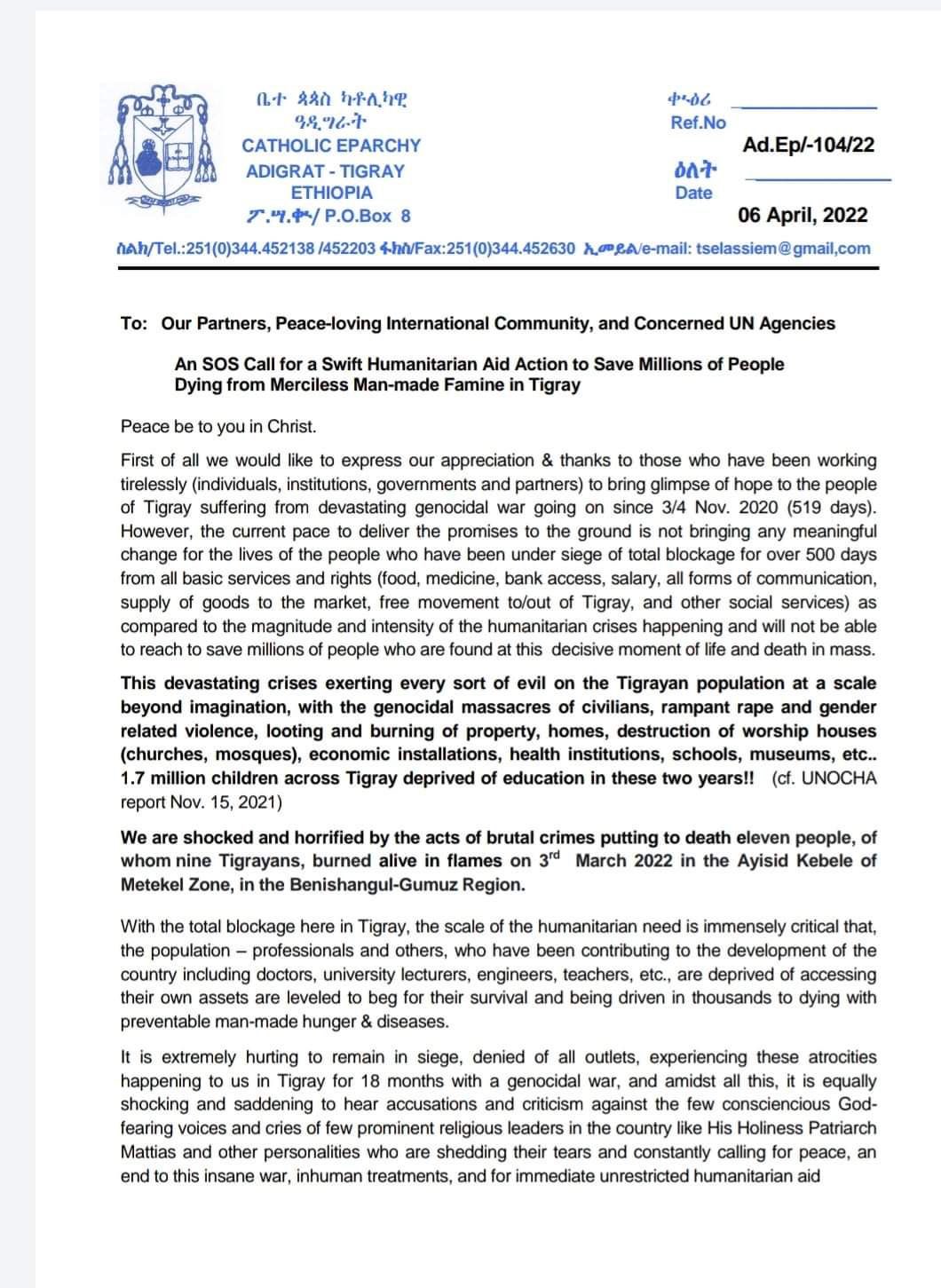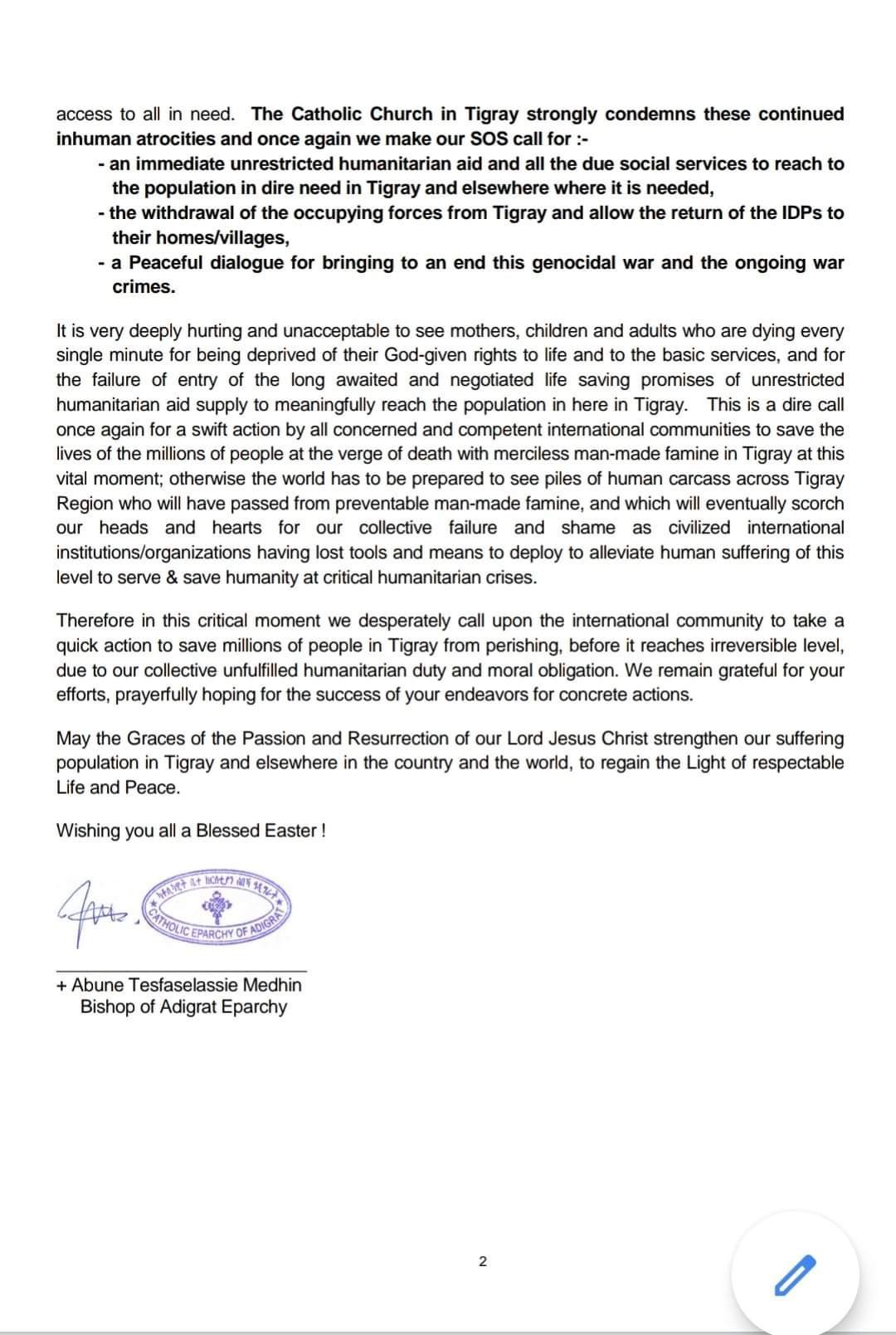 As millions of people in Tigray are deprived of medicine & food. Children are malnourished and dying. The Catholic Eparchy Adigrat asks to #EndTigraySiege. The Ethiopian government is still starving Tigray by imposing total blockade on the region. People in Tigray are dying from man-made famine and from lack of medicine, the people apparently were eating grass and university lecturers turned to streets to beg due to the bank and other infrastructures blocked for over 17 months now.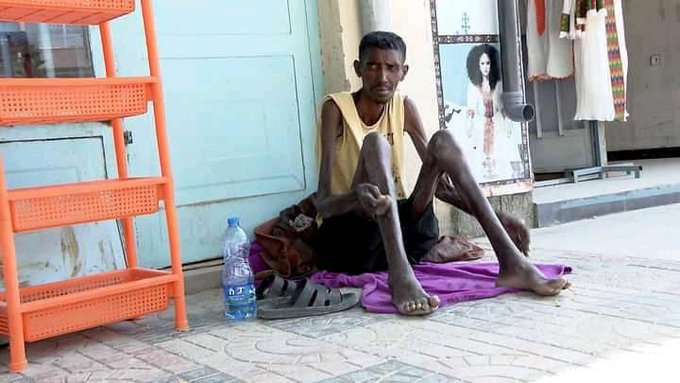 No humanitarian aid has been delivered to #Tigray since the negligible 20 trucks arrival a few weeks ago, while Antonio Guterres, The UN secretary general still celebrating for the twenty tracks made their trip to Mekelle 4 days after the humanitarian truce declared by both parties and none after. 
                         Tabular analysis about Humanitarian trace table in Tigray, Situation report.
The secretary general of United Nations still celebrating about the 0.015%, posted on his twitter account as follows,
I welcome the news that trucks with food assistance & fuel have reached Tigray & Afar following the declaration of humanitarian truce in Ethiopia.

I call on all parties to keep the momentum & follow through on their commitments to facilitate the provision of humanitarian aid.

— António Guterres (@antonioguterres) April 6, 2022
This tweet by the secretary general is basically an insult to the people of Tigray.  Getachew Reda, the spokesperson for the Tigray government wrote on his Twitter account, Antonio Guterres is expecting more promises from the Ethiopian government.
The #UNSG obviously reads too much into promises from #Addis. His subordinates also seem to do a good job of hiding basic facts from him; the only #UN convoy(a mighty 20 trucks!) made it into Tigray almost two weeks ago. That there hasn't been progress since is the news Mr #UNSG! https://t.co/fglY4NHu6Y

— Getachew K Reda (@reda_getachew) April 6, 2022
Sadly seemingly very accurate depiction of how minimal humanitarian supplies get allowed to enter Tigray. https://t.co/DHJxhCnyrd

— Neven Subotic (@NSubotic4) April 7, 2022