We are speechless by what is happening for Tigrayans in Benshangul gumuz and elsewhere in Ethiopia. The video that circulated on social media depicts a very gruesome and inhumane act.
The new video showing that group of militia and youths from Amhara burning while youngsters are alive creates frustration to many social media users.
A large number of devils have left Hell: apparently they have joined #Fano!

— Getachew K Reda (@reda_getachew) March 11, 2022
Some people commented on the video and expressed as satanic, while others kept speechless.
The new video is unjustifiable and act of evil that many people around were celebrating while human being is burning while alive.

The people who were celebrating were speaking Amharic and expressed their happiness. In the shaky video Amhara milia and Fano appeared with a group of young, unarmed men, can be heard in the footage telling one another to add more people to the burning fire and said add more wood to burn together. It was clearly heard and talking if one is died or not within the fire. One of [person burning] leg can be seen as charcoal and left unburned in his other body part and adding him to the center as shown in the picture.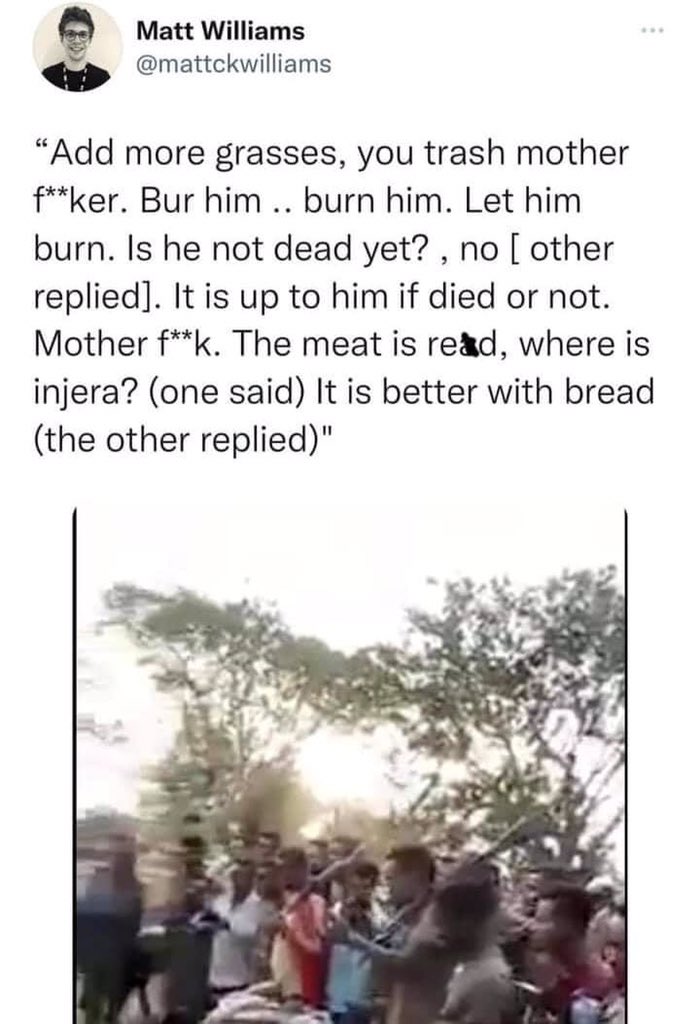 If you can see these filmed videos are too much graphic imagine the unrecorded and uncovered mass torture and killings of civilians for last 16 months.
Hint the video attached here is graphic and be responsible to watch!