"The UN estimates that 5.2 million people need urgent assistance if "the world's worst famine situation in decades" is to be averted. Although aid can now move more easily than before within Tigray itself, there is a problem getting aid trucks into the region, according to Mr Leaity, the UN's acting humanitarian coordinator for Ethiopia, said.
The United Nations Humanitarian aid OCHA explained in its noon briefing trying to address the famine situation and humanitarian blockage by the Ethiopian government against its people.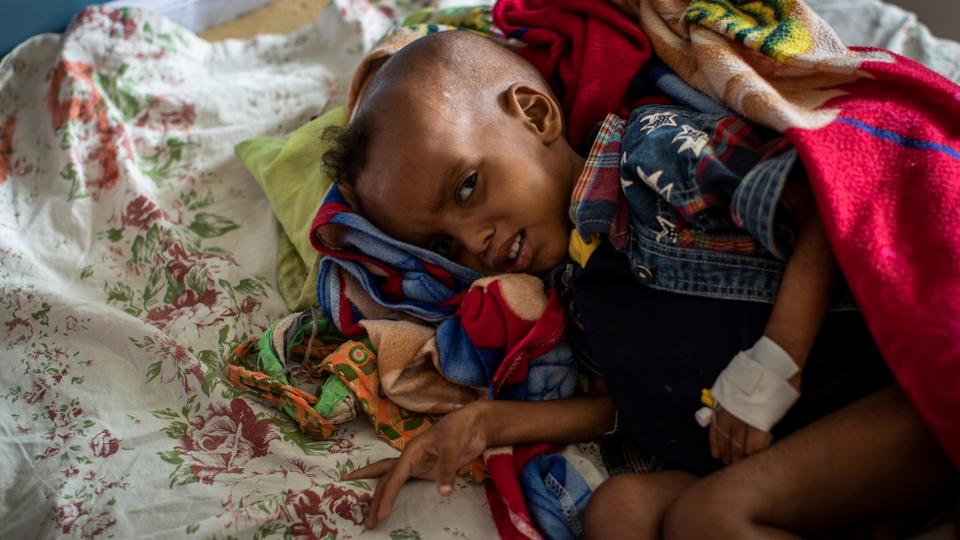 Among the OCHA briefing:

" Stocks of relief aid, cash and fuel are running very low or are completely depleted.
Food stocks ran out on 20 August. A minimum of 100 trucks of food, non-food items, and fuel are required daily to sustain an adequate response. To date, and since 12 July, only 335 trucks have entered Tigray – about 9 per cent of the required 3,900 trucks.
To sustain humanitarian operations, about US$6.5 million, equivalent to 300 million Birr is needed every week. But only 88 million Birr has been cleared or dispatched to Tigray – only 4.2 percent of requirements.
In addition, only 282,000 liters of fuel (12 trucks) have reached Tigray since 12 July, and none since 16 August, yet about 200,000 litres are required daily.
As a result, the delivery of health emergency kits for 2.3 million people is no longer feasible. Vaccination against measles, polio, and COVID-19 is unavailable, affecting over 1.5 million people. The construction of sanitation facilities at displacement sites is also not possible affecting more than 450,000 people.
Humanitarian Coordinator Leaity urged all parties to the conflict to allow and facilitate the rapid and unimpeded passage of impartial humanitarian relief in accordance with international humanitarian law, and to also respect and protect all humanitarian personnel and assets.
He also called on the Government of Ethiopia to allow and facilitate the unimpeded entry into the country, as well as movement within the country, of humanitarian relief personnel, supplies and equipment, including cash and fuel, whether over land, water or by air.
About 5.2 million people, 90 per cent of Tigray's population, urgently need humanitarian assistance, including 400,000 people facing famine-like conditions. Millions of people are also on the brink of hunger, including 1.7 million in the bordering areas of Afar and Amhara.
Additional funding is needed to sustain the response, with needs growing and operational challenges raising costs. "

Tigray Crises continued since last year November after Abiy Ahmed and Isayas Afewerki's Eritrea trying to invade by sending military troops to Tigray against the people and government of Tigray. Although the International community like US and Westerns supports and urges the military confrontation is not the solution and demands for all parties to withdraw their forces and negotiate, there are countries like Turkey adding fuel to the conflict.