Tigrayan community remembering 'WE ARE THE WORLD' 37th Year & Once More by holding a meeting on the 37th anniversary that was released on March 7, 1985, as the first single from the album to remind the catastrophic famine that happened in Africa, particularly in Ethiopia
We Are The World 37 (WATW37) is the 37th anniversary of the release of the 'We are the World' album to mobilize the World to aid the Ethiopian people who were suffering from famine.
The catastrophic famine-affected 7.75 million people (out of Ethiopia's 38–40 million people at that time) and left approximately 300,000 to 1.2 million dead. 2.5 million people were internally displaced whereas 400,000 refugees left Ethiopia. Almost 200,000 children were orphaned.

Royal Air Force C-130 airdropping food during the famine in 1985, source wiki.
In June 1985, the first USA for Africa cargo jet carrying food, medicine, and clothing departed for Ethiopia and Sudan.
About the video:
* Lionel Richie 0:25            * Stevie Wonder 0:32             * Paul Simon 0:42

* Kenny Rogers 0:54           * James Ingram 0:59              * Tina Turner 1:05

* Billy Joel 1:12                      * Michael Jackson 1:18            * Diana Ross 1:32

* Dionne Warwick 1:48         * Willie Nelson 2:02                * Al Jarreau 2:08

* Bruce Springsteen 2:14         * Kenny Loggins 2:21           * Steve Perry 2:27
* Daryl Hall 2:35                       * Michael Jackson 2:41        * Huey Lewis 2:48

* Cyndi Lauper 2:53                * Kim Carnes 3:01                  * Bob Dylan 3:48

* Ray Charles 4:41                  * Stevie Wonder & Bruce Springsteen 4:53 * Bruce Springsteen 5:31                      * James Ingram 6:13                 * Ray Charles 6:27
What is We are the world 37 for Tigray?
Today after 37 years, 8 million people in Tigray are under complete siege and to date, researchers estimate that up to 500,000 Tigrayans have died from war and famine in the 17 months since Ethiopian Prime Minister Abiy Ahmed and his partner in war, Eritrean dictator Isaias Afwerki, plotted to turn a political conflict with the TPLF into a genocidal military conflict.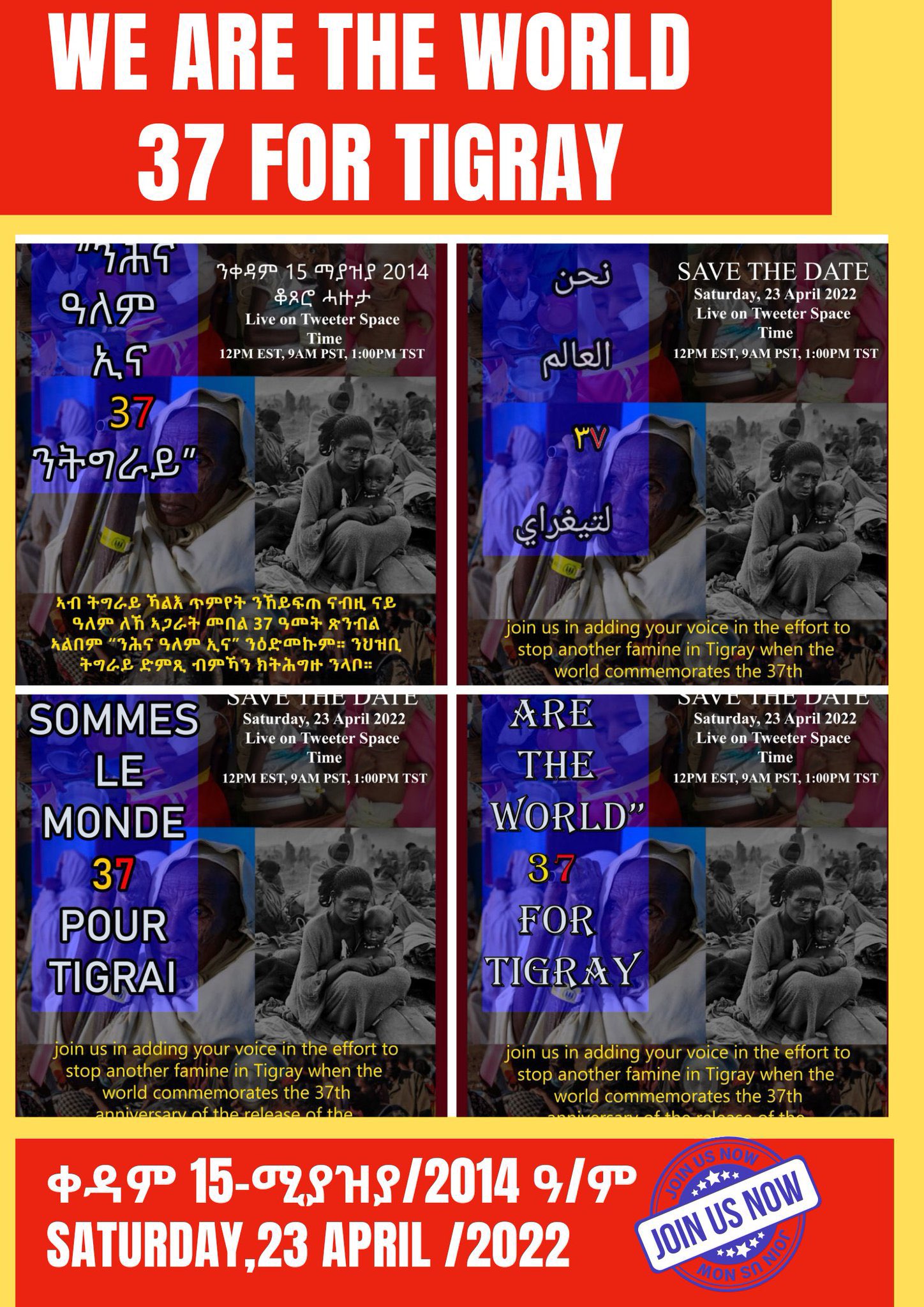 "In Tigray, families are exhausting all remaining means to access food, with three-quarters of the population reported being using extreme coping strategies to survive. The level of food insecurity is expected to worsen in the coming months as remaining food stocks from the last harvest, which was half of the normal year production, get depleted and humanitarian assistance is not delivered," OCHA said in its situational report for March.
100 trucks are required daily for providing food, non-food items, and fuel daily.
Three weeks after the truce in the Tigray, an underwhelming <3% of required food aid has reached targeted areas.
Dr. Tedros Adhanom, the Director-General of the World Health Organization (WHO), said less than a hundred trucks had entered the region in almost a month.
https://twitter.com/DrTedros/status/1516012598897963008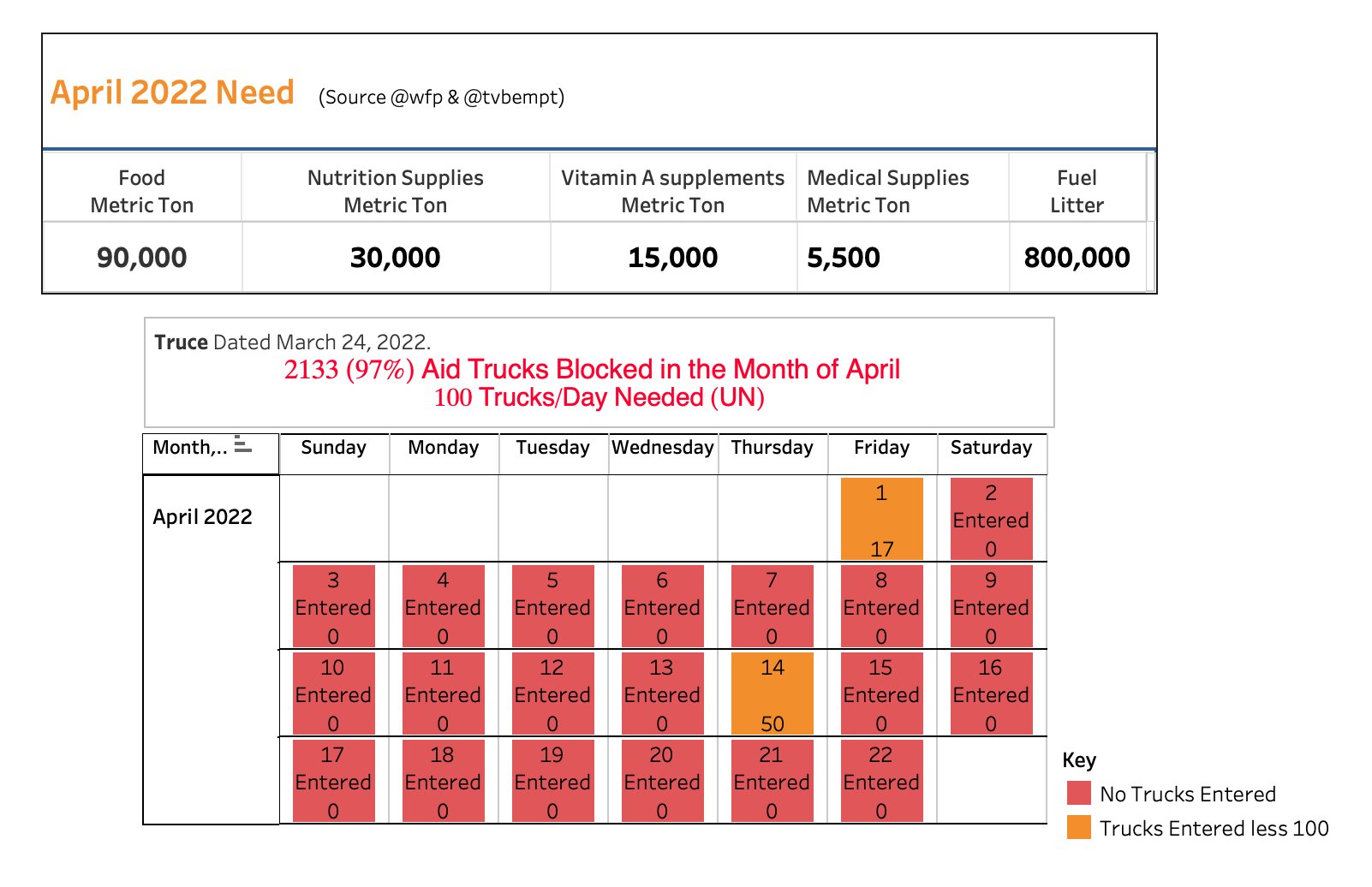 There's a crisis in Tigray & it's barely getting media coverage. Over 2M Tigrayans displaced & thousands in dire, life-threatening conditions according to international media and UN humanitarian organizations.
Tigray needs international attention more than ever. The world must walk up before it is too late.
@ProfMulugeta describing the " unconscionable " state of healthcare workers in Tigray who have not been paid for months and have no further resources. https://t.co/E3oeIdwScS

— Dr B. Bairavee (@theskypriestess) April 23, 2022
Sources: wiki, Twitter, files