Date: 02-06-2022 Report: #575DaysOfTigrayGenocide

Telecommunications, banks, and medical supplies remain blocked.
only <5 % of humanitarian aid is allowed to enter.
The largest referral hospital serving the people in Mekelle Ayder hospital is now closed due to a lack of medical supplies and medicine.
Docters in Tigray are working without salary for 18+ months.
---
Date: 06-05-2022 Report: #550DaysOfTigrayGenocide
In #Tigray there's  
No Water & Food 
No Telephone & Internet
No Bank services
No Electricity  
No Fuel & Transportation access  
No Drug Supply  
No Hospitals service
Reference: UNOCHA, Tigray Gov't
Date: 05-05-2022 Report: #549DaysOfTigrayGenocide
In #Tigray there's  
No Water & Food 
No Telephone & Internet
No Bank services
No Electricity  
No Fuel & Transportation access  
No Drug Supply  
No Hospitals service
Reference: UNOCHA, Tigray Gov't
Date: 04-05-2022 Report: #548DaysOfTigrayGenocide
In #Tigray there's  
No Water & Food 
No Telephone & Internet
No Bank services
No Electricity  
No Fuel & Transportation access  
No Drug Supply  
No Hospitals service
Reference: UNOCHA, Tigray Gov't
Date: 03-05-2022 Report:

#547DaysOfTigrayGenocide in #Tigray there's  
No Water & Food 
No Telephone & Internet
No Bank services
No Electricity  
No Fuel & Transportation access  
No Drug Supply  
No Hospitals service
Reference: UNOCHA, Tigray Gov't
Date: 02-05-2022 Report:
#546DaysOfTigrayGenocide in #Tigray there's  
No Water & Food 
No Telephone & Internet
No Bank services
No Electricity  
No Fuel & Transportation access  
No Drug Supply  
No Hospitals service
Reference: UNOCHA, Tigray Gov't
Date: 01-05-2022 Report:

#545DaysOfTigrayGenocide in #Tigray there's  
No Water & Food 
No Telephone & Internet
No Bank services
No Electricity  
No Fuel & Transportation access  
No Drug Supply  
No Hospitals service
Reference: UNOCHA, Tigray Gov't
Date: 30-04-2022 Report:


#544DaysOfTigrayGenocide in #Tigray there's  
No Water & Food 
No Telephone & Internet
No Bank services
No Electricity  
No Fuel & Transportation access  
No Drug Supply  
No Hospitals service
Reference: UNOCHA, Tigray Gov't
Date: 29-04-2022 Report:

#543DaysOfTigrayGenocide in #Tigray there's  
No Water & Food 
No Telephone & Internet
No Bank services
No Electricity  
No Fuel & Transportation access  
No Drug Supply  
No Hospitals service

Since the 'humanitarian truce' announced in #Tigray:
Number of trucks expected to arrive = 4100
Number of trucks actually arrived = 144 (3.5% of target)
Reference: UNOCHA, Tigray Gov't
Date: 28-04-2022 Report:

#542DaysOfTigrayGenocide in #Tigray there's  
No Water & Food 
No Telephone & Internet
No Bank services
No Electricity  
No Fuel & Transportation access  
No Drug Supply  
No Hospitals service

Reference: UNOCHA, Tigray Gov't
Date: 27-04-2022 Report:

#541DaysOfTigrayGenocide in #Tigray there's  
No Water & Food 
No Telephone & Internet
No Bank services
No Electricity  
No Fuel & Transportation access  
No Drug Supply  
No Hospitals service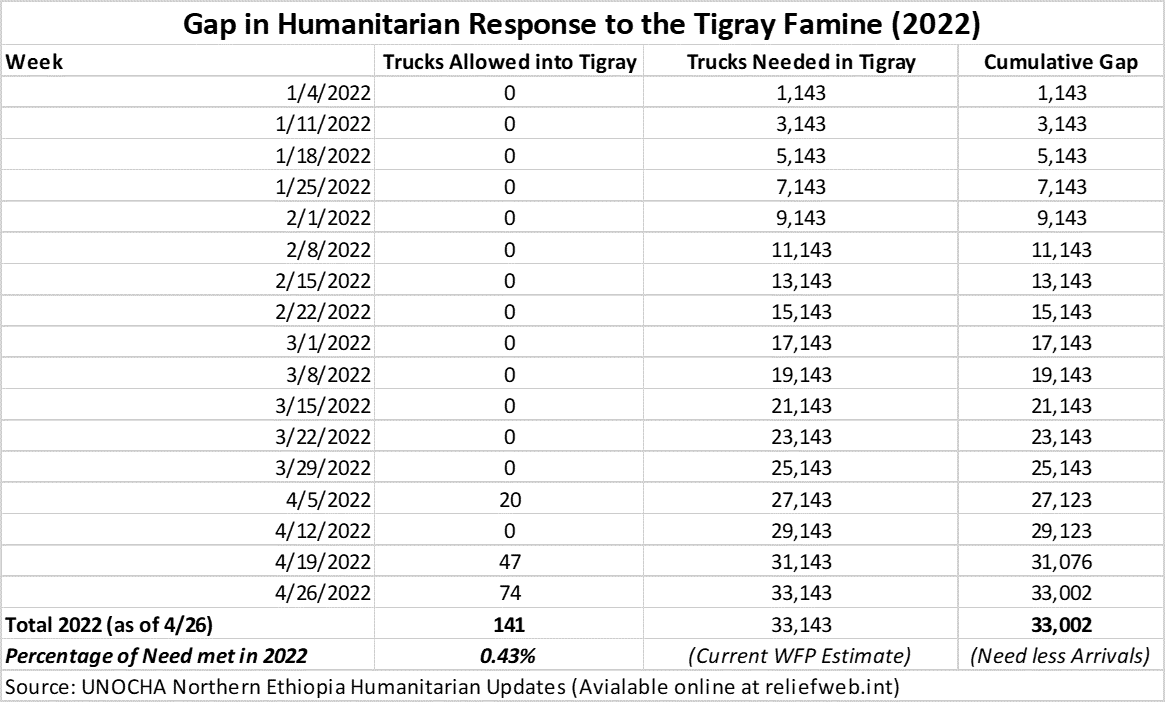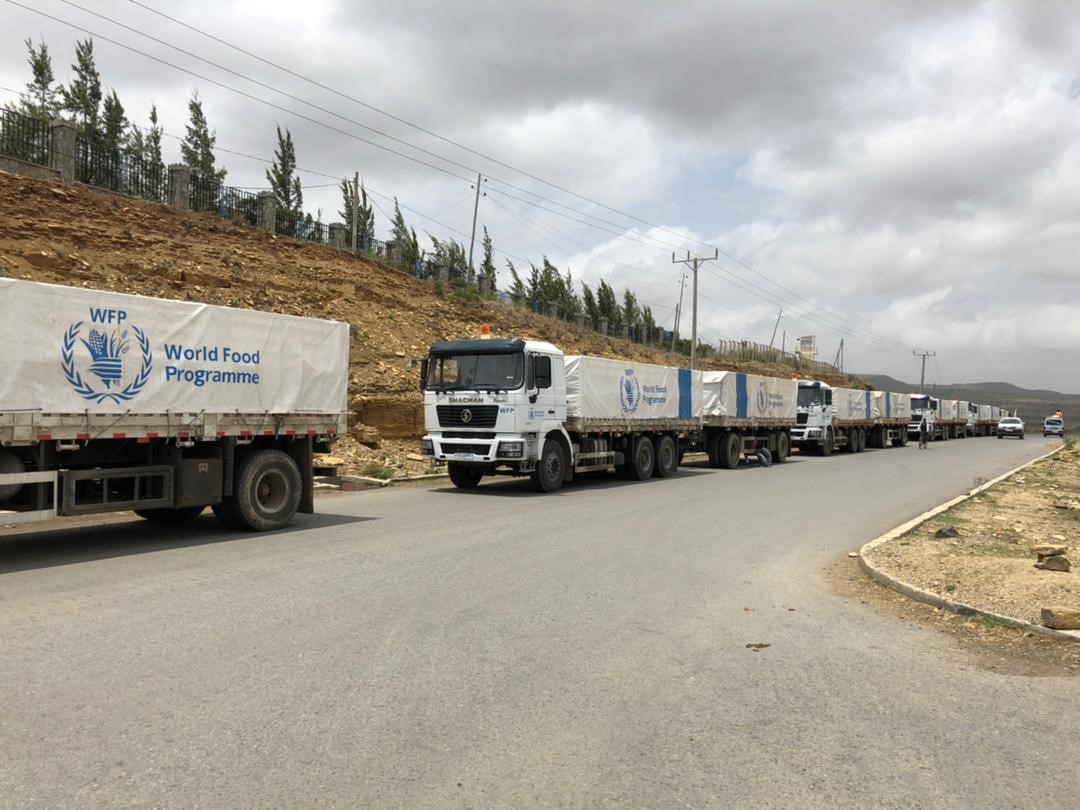 Date: 27-04-2022 Report:

#540DaysOfTigrayGenocide in #Tigray there's  
No Water & Food 
No Telephone & Internet
No Bank services
No Electricity  
No Fuel & Transportation access  
No Drug Supply  
No Hospitals service
Date: 26-04-2022 Report:

#539DaysOfTigrayGenocide in #Tigray there's  
No Water & Food 
No Telephone & Internet
No Bank services
No Electricity  
No Fuel & Transportation access  
No Drug Supply  
No Hospitals service
Date: 25-04-2022 Report:

#538DaysOfTigrayGenocide in #Tigray there's  
No Water & Food 
No Telephone & Internet
No Bank services
No Electricity  
No Fuel & Transportation access  
No Drug Supply  
No Hospitals service
Date: 24-04-2022 Report:

#537DaysOfTigrayGenocide in #Tigray there's  
No Water & Food 
No Telephone & Internet
No Bank services
No Electricity  
No Fuel & Transportation access  
No Drug Supply  
No Hospitals service
Date: 23-04-2022 Report:

#536DaysOfTigrayGenocide in #Tigray there's  
No Water & Food 
No Telephone & Internet
No Bank services
No Electricity  
No Fuel & Transportation access  
No Drug Supply  
No Hospitals service
Date: 22-04-2022 Report:

#534DaysOfTigrayGenocide in #Tigray there's  
No Water & Food 
No Telephone & Internet
No Bank services
No Electricity  
No Fuel & Transportation access  
No Drug Supply  
No Hospitals service
Date: 21-04-2022 Report:

#533DaysOfTigrayGenocide in #Tigray there's  
No Water & Food 
No Telephone & Internet
No Bank services
No Electricity  
No Fuel & Transportation access  
No Drug Supply  
No Hospitals service
Date: 20-04-2022 Report:

#532DaysOfTigrayGenocide in #Tigray there's  
No Water & Food 
No Telephone & Internet
No Bank services
No Electricity  
No Fuel & Transportation access  
No Drug Supply  
No Hospitals service